Leafy wrote:Pst, balance shafts in an in line 4 balance out an inherent second order vibration in the I4 layout. There is a 3rd order vibration which typical balance shafts (like in hondas) dont candle that Gm designed a balance shaft in the early 90's to cancel out in the LD9. I'd explain why the v6 is a very unbalanced design, especially the 90* v6, the 60* less so, but I dont feel like wring a novel of which you wont be able to comprehend anyways.
I build race engines, looks like you go to school and drive a Cavaqueer. Have fun with your slow ass GM with an improperly balanced Inline 4.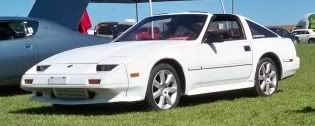 1986 Nissan 300ZX Turbo (Z31) : Built '95 VG30ET, 9:1 compression, 3" turbo-back, FMIC, 440cc Injectors, Nistune, etc...
1988 Nissan 300ZX Turbo
1974 260Z
1978 280Z