Developer - Lead Artist

Posts: 2412
Joined: Wed Apr 14, 2010 6:36 pm
Location: Melbourne, Australia
Cars: 1994 Mazda MX5 with big cams - 101RWKW
Ok, so I figure its about time to post some stuff about my car.
Its a 1994 MX5, bought it about 2 years ago now I think it would be and loved it straight away, its still very much a work in progress, but I still loves it
Did a few little mods, exhaust, intake, extractors etc, but never really had enough power
A little while after I bought it, I took it out for its first track day, which was great fun, but near the end of the day, it started making a death rattle from the bottom end, which turned out to be a very screwed rod bearing..
And thus, into the garage we went for a DIY rebuild, unfortunatly a few things didn't quite go right with that either, but it was an interesting learning experience, and having had an engine apart is helping me model engine bits!
So finally to get it right, i went to my favorite mechanic (
http://www.carco.com.au
- Great bloke) for a proper engine to be built for me, and this is what we ended up with the following.
Rebored.
Good Quality Cast Pistons & new rings. (compression left at 9:1 for turbo)
Tighe 805C Cams
SPOOL Forged Conrods
Head Porting and Valve Unshrouding
Internals Balanced
Extractors, 2 1/2" Exhaust, Dual Tip "RoadsterSport" Muffler
DIY Intake Snorkel (now broken..)
Adaptronic ECU.
Ceramic Puck Clutch
The dyno says it makes about 101kw at the wheels @ 7500 rpm, as compared to about 75kw @ 6000rpm for a stock one.
Sounds angry, and loves to hit the 8krpm limiter too, great fun!
It is however a bit touchy to drive with the grabby clutch and interesting power delivery.
Since then ive been to the track with it a few times and had a lot of fun in it
Its currently at my mechanics place in Canberra and im now living in Melbourne, He is starting it on cold mornings now and then to fix some tuning issues and I will pick the car up and bring it down here next time im in Canberra (I really miss the thing now!)
Needs a new soft top too, as the old ones rear window split in half...
Anyway, here is a big pile of pics and video of it! (click for larger)
http://www.youtube.com/watch?v=ThMUThUJO9M
http://www.youtube.com/watch?v=Y4bgqoXwN5o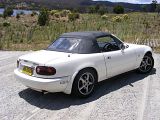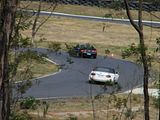 Me chasing down (and beating
) housemate's MR2 Turbo
And Below, my uncle coming into a corner a bit quick